We recently shot and edited the video for our crowdfunding campaign and ran into an unexpected problem ... and no, it wasn't the unpredictable weather in Hamburg (although we went through at least 4 seasons that day!).
The main problem was: the video features the two of us - writer, director and co-producers of the film - and we are definitely not used to being in front of a camera!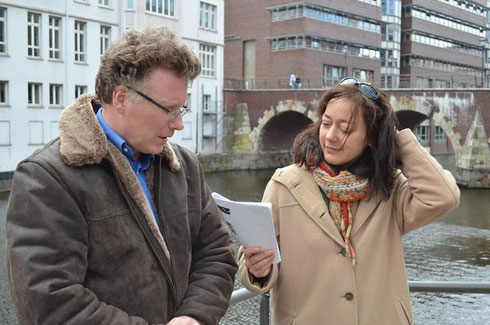 We used some of the locations featured in the film as backdrops to explain our crowdfunding campaign (one of our rewards is also a location tour). So, we spent the day going to various places and "performing". We didn't want to learn our "lines" off by heart as this seemed a bit stilted. We just had our notes to refer back to...and back to...and back to ... as we kept forgetting bits of important information or forgetting to pause for the other person or just trying very hard not to laugh!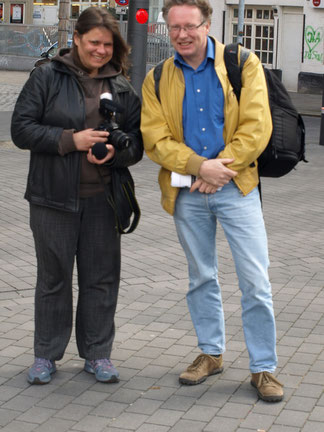 Luckily we had Claudia Heydolph of crossmedial.info shooting and recording the whole thing. Her vast experience as a TV journalist saved the day!
But the video wasn't finished yet - there was still the editing left to do and that also took longer than expected. But then, editing always does.
So for anyone looking to make a crowdfunding video, our advice is: keep it as simple as possible! We've seen quite a lot of videos that just have the filmmakers talking into the camera without cuts, followed by a teaser or trailer and that's probably an excellent solution.
The result of our efforts can be viewed below and of course we'd love it if you supported the project:
German page www.nordstarter.org/schlafendehunde
English page  www.startnext.de/en/schlafendehunde
Facebook  facebook.com/SchlafendeHundeFilm
Claudia Heydolph can be contacted at:
Facebook: www.facebook.com/crossmedial
Website:  www.crossmedial.info