We are working in conjunction with the members of Filmteam Colón to bring Schlafende Hunde to you at the Metropolis Kino (Hamburg) in September. Filmteam Colón regularly show films at the Metropolis. They present well-known and lesser known German films and enthusiastically support local productions. We decided to ask them to tell us more about themselves and their work: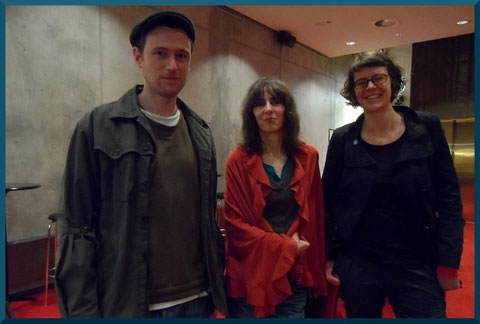 Could you tell us a bit about yourselves?
Regine H.
I work as a German teacher at the Colon Language Institute in Hamburg and I've been a member of Filmteam Cólon since 2011.
Regina N.
I'm also a German teacher at Colón. I'ver been there for a long time - 20 years - I love the work and I love organising the film project. We'ver been working in cooperation with the Metropolis cinema since February 2006 and that's how long I've been part of the film team.
Matthias
I also teach at Colón. At the moment I'm on parental leave to look after our newborn daughter, so I'm not very active, but I watch all the films and help decide which films to show. In November I'll be back full time.
How did you have the idea of film screenings?
Regina N.
That goes back to 2005. A group of teachers got together at Colón to talk about what kind of activities we could offer - someone had the idea of film evenings. One of us was a member of the Kinemathek and that's how the contact to the Metropolis cinema came about. One or two months later we showed our first film!
The original idea was that the films would give our students an insight into German culture. It might seem incredible to us but very few people from other countries have seen any German films. They might have heard of Goodbye Lenin, maybe Run Lola Run or The Lives of Others, but apart from that German films are almost completely unknown and that was something we wanted to change.
What was the first film you showed?
Regina N.
That was Alles auf Zucker (Go for Zucker) in February 2006.
How do you choose the films you show?
Regine H.
Obviously they should be German or in German. I go to the cinema a lot to watch German films. And then we talk about it: is the subject matter interesting, would it be interesting for our students who tend to be quite young, and another factor is how easy it is to understand.
Matthias
Yes, for example if it contains dialect - if there's too much dialect our students won't be able to follow the dialogues. So, even if we like the film, we can't show it. The language aspect is very important.
Where does your passion for the cinema come from?
Regine H.
I'm not sure. I love sitting in the cinema and watching films, even though one of the advantages of watching something at home is that you can watch it in the original language. But I love the atmosphere in the cinema; I love the big screen and I'd go and see something by myself just for the sake of seeing it there.
Regina N.
I totally agree - sitting in the dark, the big screen, being completely immersed and forgetting everything around you. Another aspect for me - allthough I like seeing German films - is that I realls enjoy films from all over the world. I think that has increased because of my work at the language institute. We have so many people from all over the world in our courses and when I meet someone from Korea, I also want to see Korean films. I love finding out about other people through films. I can't travel everywhere, so maybe that's also a reason why I like international films so much.
Matthias
I'm not such a big fan of going to the cinema. I see a lot of films and I don't mind how I watch them. I can enjoy a film on a tablet, as well. I love switching off for 90 minutes and immersing myself in another world - that's what I like about films. When I'm in the cinema, it really annoys me when people eat popcorn or nachos loudly, especially if I like the film! It's not usually like that at the Metropolis, but when I went to see Avatar at the Cinemaxx it was different. So, I'm a bit antisocial when it comes to going to the cinema.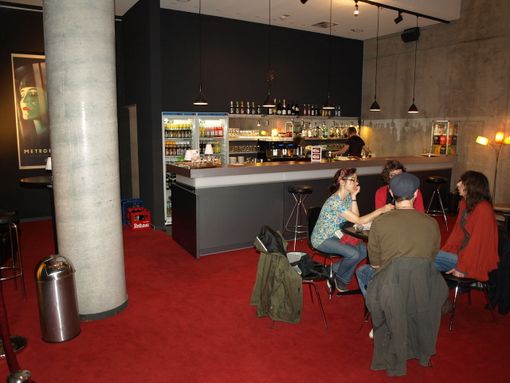 Do you have a favourite film or genre?
Regine H.
That's difficult...I like small films; I like Latin American films. Now I also like French films but that took a while because I always thought they don't talk enough. And of course I like German films ....but a favourite film, hmm...
Regina N.
I could probably name 20 to 50 or even 100 favourite films because I've seen so many good films. I also don't have a favourite genre. I like all kinds of different films - experimental ones, documentaries which can be experimental or more conventionally told or political. I like feature films and they can also be experimental or mainstream. I really enjoyed the Lord of the Rings trilogy, especially the first part. I also like some films by Terrence Malick, although I don't really like the religious aspect but I love his powerful visuals. Maybe this is a kind of favourite genre of mine: I think films should be a visual experience - that's what I find fascinating. I don't always need dialogues. I saw The Turin Horse by Béla Tarr, a Hungarian director. The film was almost 4 hours long, started out grey and became greyer and darker. After a while you can hardly distinguish anything as the end of the world draws closer. Not very much happens but the film is extraordinary and is carried by the atmosphere and the fantastic visuals. That's what cinema is to me - films that, when you leave the cinema, still have a hold over you. I'll never forget that film.
Matthias
I don't have a favourite film either but I think what's important for me is that a film touches me in some way and that I can feel what the characters are going through. For a film to work, I have to find something in the characters that draws me into the plot and when that's the case, I can even watch a romantic comedy - much to my wife's delight. I wouldn't exactly need a tissue but I can appreciate the film all the same. For me it has a lot to do with the characters. When I can say, ok, I understand what the director is trying to tell me; I understand what the actors are doing and I find it moving. That's when I can recommend a film and that's what's most important to me when I watch something.
Regine H.
You said that very well and I agree - there has to be something in the film that moves me. I thought about The Turin Horse but I don't think that would be a film for me. I think I also want to be entertained - I go to the cinema to be completely immersed in the story.